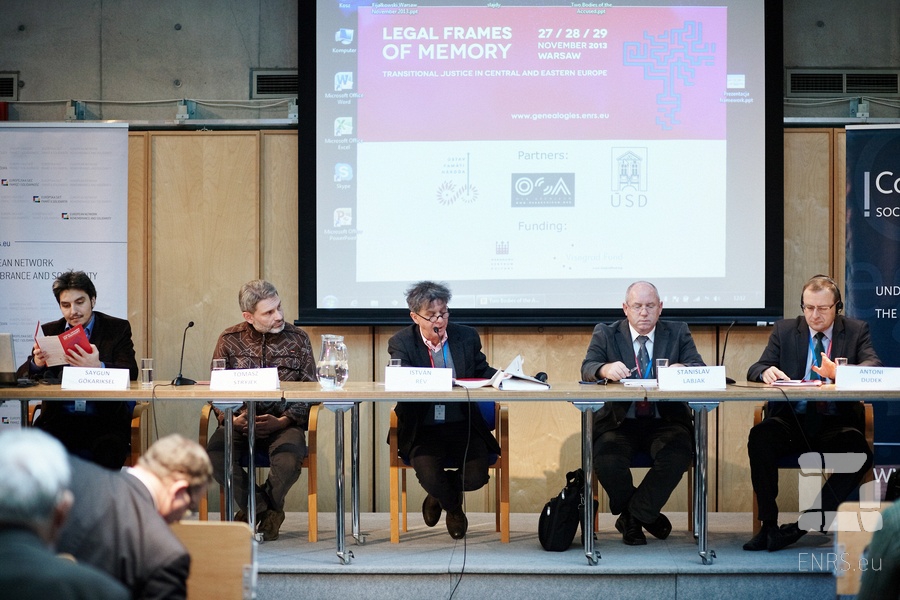 Victimisers, victims and the whole world
Settling accounts with Nazism and communism, even with apartheid and the dictatorships of South America has become a scholarly discipline in its own right. Its distinguished researchers met during a seminar in Warsaw.
By Andrzej Stankiewicz
Research on the mechanisms of what has come to be known as transitional justice got under way in earnest at the turn of the 1990s, when communism in Central-East Europe was headed for the dustbin of history.
Transitional justice is the broadly conceived settling of accounts with receding totalitarian systems, carried out by new democratic authorities. This goes beyond legal regulations alone such as bringing criminals to justice, and also involves social phenomena accompanying the collapse of regimes. At present, this field of study, touching on law, history and the social sciences, encompasses research on the consequences of the collapse of all the world's 20th-century dictatorships, including de-Nazification and de-communisation. It also involves vetting and access to regime files, rehabilitation of political prisoners and restitution of nationalised property.
Plaque with the word 'murderer'
Researchers of transitional justice met in Warsaw at an international conference titled 'Legal Frames of Memory. Transitional Justice in Central and Eastern Europe' (27-29 November 2013). The conference was an element of the Genealogies of Memory project launched in 2011 and carried out by European Network Remembrance and Solidarity.
'Genealogies of Memory is one of those important scholarly projects seeking to come to grips with the memory of Central-East European totalitarianism and the transformation period,' said deputy culture minister Małgorzata Omilanowska while opening the conference. 'The problem of justice and related legal issues are the key to understanding many processes taking part in the countries of our region.'
Does a single model of transitional justice for countries leaving dictatorships behind them exist? 'The situation of each country is different, but there are similarities,' said Professor Adam Czarnota, a legal expert who lectures at universities in Poland, Australia and Western Europe.
The professor has only just returned from Argentina, a country in the process of healing its wounds following the military dictatorship of the 1970s and 1980s. He shows a snapshot he took during a visit to Buenos Aires. It shows a yellow plaque with black lettering hanging on a roadside post, indicating that a 'murderer' lives in this house, a collaborator of the former military regime involved in crimes.
This is evidence of what can occur when transitional justice is lacking and victims take things into their own hands. From that perspective, how does he evaluate transitional justice in Poland? 'Property restitution and penal accountability of representatives of the former regime is still needed,' believes Professor Czarnota.
Symbols, not money
At the centre of transitional research, both victims and victimisers are studied following the collapse of a regime. According to researchers, there can be no talk of justice until the victims are rehabilitated and the state reimburses them for the losses they sustained at the hands of the dictatorship's functionaries. Professor Christiane Wilke of Canada's Carleton University warned in Warsaw that justice not rooted in the rule of law can become distorted and deteriorate into revenge against victimisers.
Professor Mark Osiel of the University of Iowa called attention to the way of memorialising regime victims used by the Inter-American Court of Human Rights. Based in Costa Rica, it was set up in 1979 to settle accounts with Latin American regimes. 'The Court seeks to restore the memory of victims by means of proper court rulings. It orders the rehabilitation of victims' memory by publicly honouring them and through apologies made by the state. It also orders changes in school textbooks,' Osiel explained. 'Latin America is perhaps making the greatest effort to change collective memory.'
The American professor called attention to yet another matter: research on transitional justice has shown that former victims regard financial assistance as improper and at times downright suspect. In his view, it is far better to honour victims symbolically.
An unquestioned authority on transitional justice, Osiel is the author of several fundamental works on the subject. He advised prosecutors in the case against Chilean dictator Augusto Pinochet and on the prosecution of genocide in Rwanda in 1994.
Generals to the barracks?
Researchers disagree as to whether prosecuting dictators who have given up power such as Pinochet and Jaruzelski is proper. 'I recall the worldwide reaction to Pinochet's detention in London upon a motion of Spanish judge Baltasar Garzón in connection with murder and torture charges. Even former Polish dissidents such as Adam Michnik were opposed. Because it becomes known what your future holds when you lose power,' Jiří Přibáň, a Czech professor from Cardiff University, explained.
Professor Adam Czarnota recalled that in May the leader of the Burmese opposition and Nobel Peace Prize laureate Aung San Suu Kyi told him they did not want to sentence the junta generals but only send them back to the barracks.
But all the discussion participants agreed that settling accounts with a regime looks different in every region of the world. It depends whether a system collapsed amid violent revolution, through the peaceful hand-over of power or – as in the case of Germany and Japan – resulted from a lost war. The latter instance was referred to by Professor Czarnota as 'victor's justice', as the victorious powers imposed their order on the vanquished.
According to Professor Czarnota, with the exception of the Baltic states, there has been no transitional justice in the countries of the former USSR. It is no coincidence that the churches of Western Christianity essentially dominate in countries where transitional justice processes have taken place.
Ukrainian Yaroslav Pasko form Donetsk State University admitted: 'In Ukraine such social will is lacking. This is the result of an underdeveloped civil society. In our country there is no structure that promotes a departure from post-Soviet experiences and sentiments.'
Polish model in Tunisia
Conference participants set the countries of our region up as examples for states making the transition from dictatorship to democracy. Deputy justice minister Wojciech Węgrzyn emphasised that account settling in the countries of the former Eastern bloc has incurred smaller social and economic costs compared to states in, for example, Latin America.
Recently, Poland has even become something of an exporter of knowledge on 'justice of the transformation period'. Last year, Polish NGOs, backed by the Foreign Ministry, organised training sessions devoted to justice in the transition period for Tunisians who have been trying to build democracy following the Jasmine Revolution at the turn of 2011.