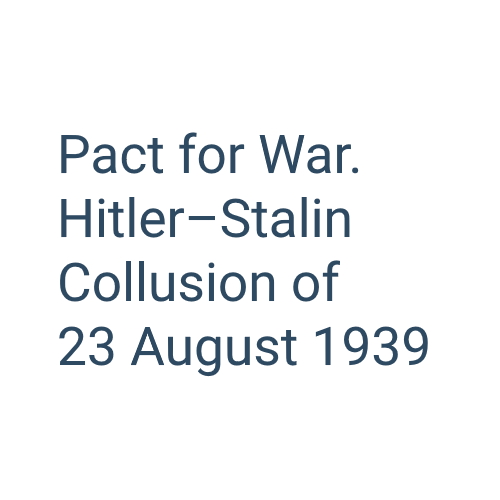 Pact for War.
Hitler–Stalin Collusion of 23 August 1939 from the Perspective of 80 Years since the Outbreak of the Second World War
23-24 August 2019, Gdańsk
The conference, organised on the 80th anniversary of the Ribbentrop-Molotov Pact, will focus primarily on the collusion between Hitler and Stalin and its far-reaching consequences for the Central and Eastern European countries. Contemporary representations of the war alliance between the Soviet Union and the Third Reich between 1939-41 will also be discussed.
Attendees include historians and experts in museum studies from US, Great Britain, Poland, Germany, Lithuania, Latvia, Estonia, Finland, Romania, Moldova and Ukraine.
The opening lecture "Hitler and Stalin: the forgotten Great Power relationship of World War Two" will be given by the British historian Roger Moorhouse.
The event is open to the public.
Venue: Museum of the Second World War in Gdańsk, Jan Olszewski Conference Hall
Campaign: Remember. August 23
Engagement of the ENRS in the conference is but one of many activities in which our organisation strives to mark 23 August - the European Day of Remembrance for Victims of Totalitarian Regimes and anniversary of the Ribbentrop-Molotov pact.
Learn more about the Remember. August 23 campaign