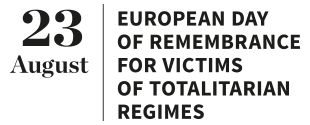 On 23 August, on the anniversary of the Molotov-Ribbentrop Pact, the European Day of Remembrance for Victims of Totalitarian Regimes is observed. It was on that day in 1939 that an agreement between Nazi Germany and the Soviet Union opened a road towards the tragedy of the second world war and its consequences: concentration camps, gulags, Holocaust, crematoria, labour camps, and many years of the cold war and further criminal regimes. On 23 August, all those are remembered whose deaths were a consequence of the crimes perpetrated by Nazism and Stalinism.
23 August brings back the memory of millions those who fell victim to totalitarian regimes, primarily inmates of concentration camps, death camps, Soviet gulags and Stalinist prisons. Each and every of the millions of victims had his or her individual history recalled by the identification portraits of inmates featuring on the graphic images which accompany the campaign.
Molotov - Ribbentrop Pact
The Pact was signed on 23 August 1939 on the Kremlin by the ministers of Foreign Affairs of Soviet Union and Nazi Germany. Soviet Union was represented by Vyacheslav Molotov and Germany by Joachim von Ribbentrop. A document that was presented to the world as a non-aggression Pact was in fact an invasion plan. Within the pact lie the secret protocol that carved the continent into two spheres of influence, split between two totalitarian systems – that of Nazi Germany and that of Soviet Union.
The secret protocols granted mutual support for the War that Germany started a week later with the invasion of Western Poland, and followed by Soviet Union's invasion of Eastern Poland. The sphere split central Europe in two, its peoples, its cultures and erased independent states: Estonia, Latvia, Lithuania, Poland.
To read the full text of the Non-Aggression Pact in English, click here
See the original document in German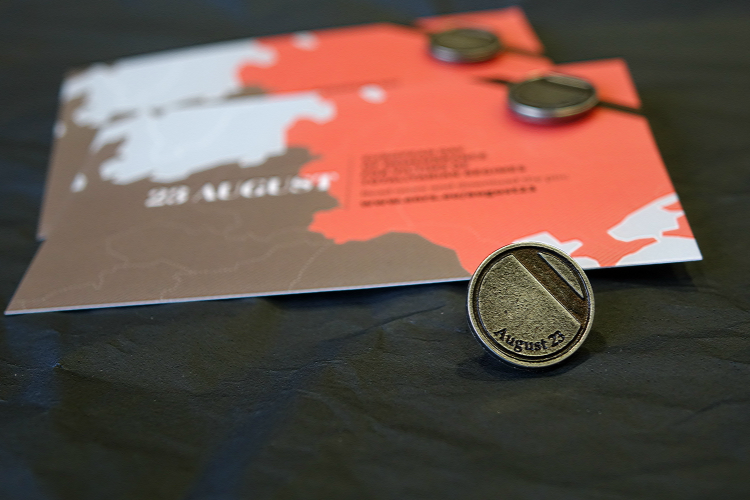 An outer representation of this remembrance can be wearing a pin with a mournful black band, prepared on the initiative of the European Network Remembrance and Solidarity. The European Network Remembrance and Solidarity encourages everyone to make a symbolic gesture of remembrance by sharing and wearing a special pin with the inscription "Remember. August 23".