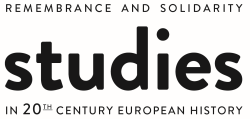 About Remembrance & Solidarity Studies
Remembrance and Solidarity. Studies in 20th-century European History is an open access multidisciplinary journal dedicated to publishing research and studies in the all areas of 20th-century European history. It features not only current research and studies focusing on turning points or past events, but also showcases reports and slightly edited lectures or debates presented during conferences and symposia organised by ENRS.
Papers published by the journal aim to represent diverse theoretical, empirical, and methodological approaches to investigating 20th-century European history. Moreover, the annually selected subject of the issue attempts to contribute to key academic debates in the area of memory studies. The journal encourages the submission of papers from all social science and humanities disciplines focusing on 20th-century European history.
Texts published in the journal will form the basis of academic studies. The bulletin is addressed to the academic community (staff, undergraduates, graduate students, etc.) as well as a broad group of history enthusiasts (teachers and other interested individuals).
All submissions to this journal undergo peer review based on initial editor screening and single-blind peer review by at least two referees. Please note that this journal only publishes manuscripts in English.
Print ISSN: 2084-3518, one issue per year
The publisher, Institute of European Network Remembrance and Solidarity, makes no representations or warranties as to the accuracy, completeness, or suitability of the content for any purpose. Any opinions and views expressed in this publication are those of the authors and are not the views of or are endorsed by the Institute of European Network Remembrance and Solidarity. Content accuracy should not be relied upon and should be independently verified with primary sources of information. Institute of European Network Remembrance and Solidarity shall not be liable for any losses, actions, claims, proceedings, demands, costs, expenses, damages, or other liabilities of any kind arising directly or indirectly in connection with, in relation to, or arising from the use of content.