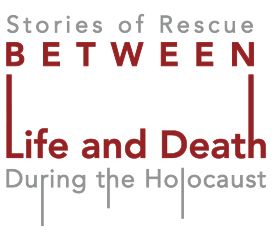 About "Between Life and Death. Stories of Rescue during the Holocaust"
The Holocaust claimed the lives of nearly six million European Jews. Some of the survivors encountered people who helped them. For both those rendering help and those seeking to survive that was a risky undertaking that could cost one's own life. The aid assumed many forms depending on wartime conditions in a given region of Europe, awareness of the tragic fate of Jews as well as other individual factors.
The exhibition presents stories of rescue in twelve European countries: Croatia, Denmark, France, Germany, Hungary, Italy, Lithuania, the Netherlands, Poland, Romania, Slovakia and Ukraine. We seek to give a voice to both rescuers and survivors - to let them speak about what they lived through. We draw attention to their endeavours, courage and will to live. Their fates are shown against a broader historical background, indicating the particular circumstances they had to face. A special panel dedicated to diplomats who used their posts to help those endangered by the Holocaust is also featured.